My camping hobby
Since I work in IT, I'm "on the grid" for most of my life. Therefor I love to "disconnect" and go camping every now and then. My camping trips themselves are not that interesting to put on the internet, but I always get comments on my camping gear.
Also, maybe, just maybe, I should use the word glamping from now on ;-)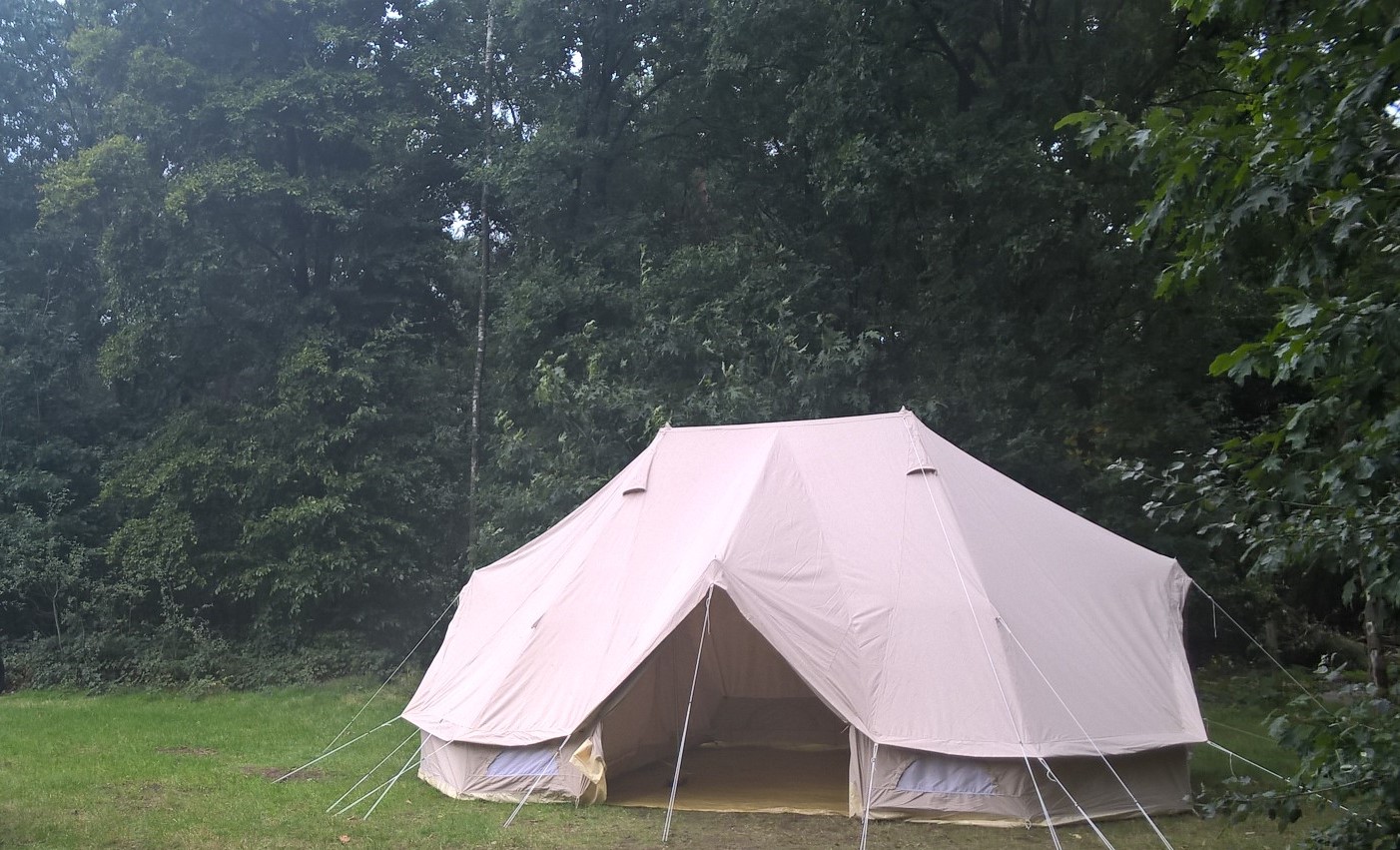 When I started glamping, I wanted a specific kind of tent. In August 2015 I purchased my first "big" tent, it was also for LARPing so it should also look good in a different setting. I made a comparison between a few tents and ended up with a modern Sibley tent; a double door version of 4 by 6 meters wide and 3 meters tall called "Emperor Bell Tent" or "Sibley 600 Twin". When I told my wife I wanted to buy that specific tent, she wasn't entirely amused (still married to her though!). According to her, it was too big, too heavy, too complicated to set up, and wouldn't fit my car. Note that at that time my car was a 1999 Suzuki Swift.
I would of course never admit she was right, but when I put the tent in the back of my car, the front wheels came a bit from the ground. So through the passenger door (it was a 3-door car!), I had to place it on the backseat. In my opinion it did fit perfectly.
A few weeks later we had an event, and we pitched the tent. My wife was immediately convinced. We've set up the tent in no time at all, there was enough room to stand everywhere, and all her previous camping experiences were nothing compared to this.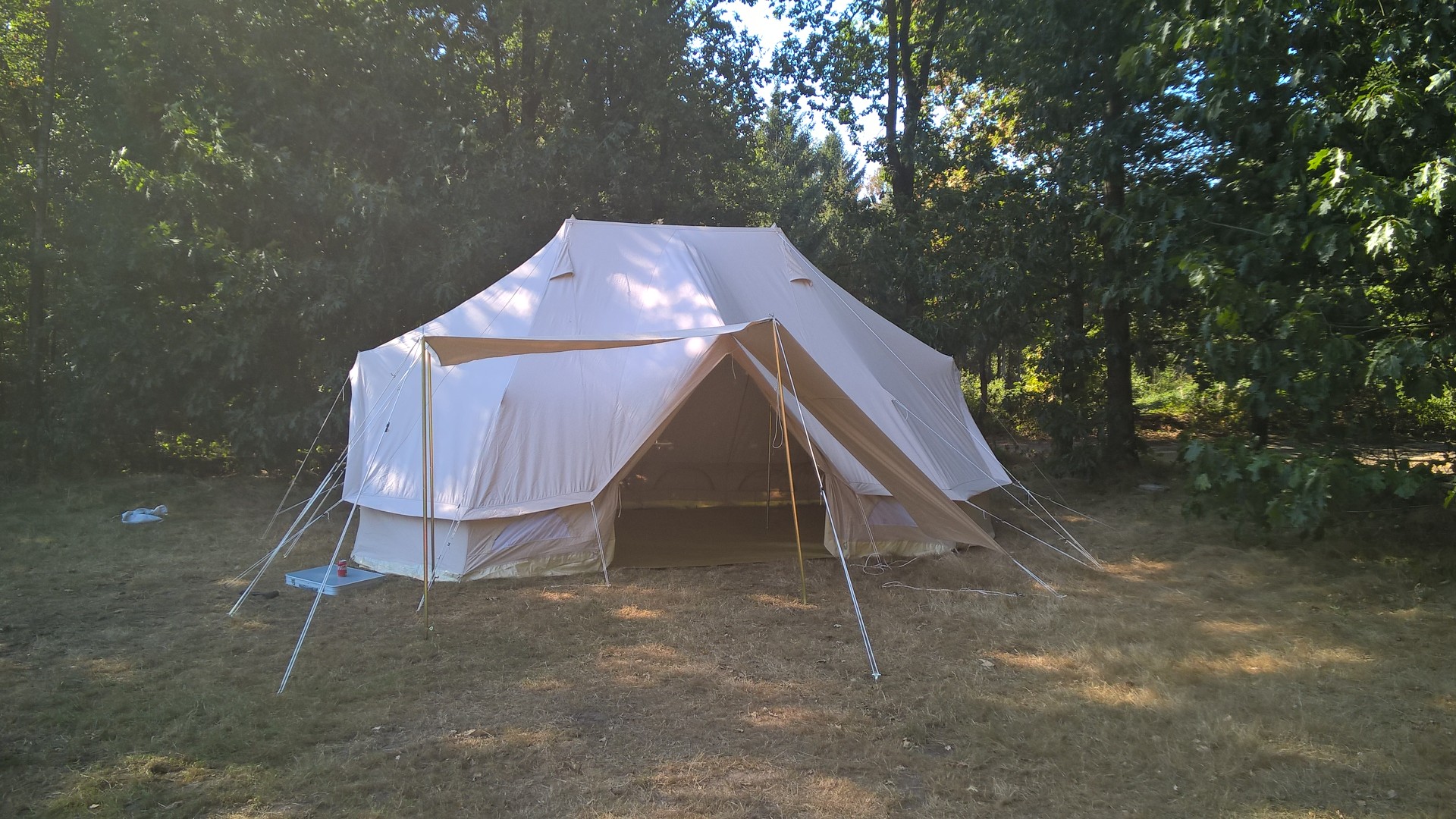 One year later, I added a small awning. This added quite some value in my opinion. When it rains, the ground in front of the entrance won't get too wet and when it's very sunny, there's also a bit more shade if the door is open for fresh air.
Since I added the awning as entrance on my tent, I can't picture my tent without one anymore. The awning really completes the full picture.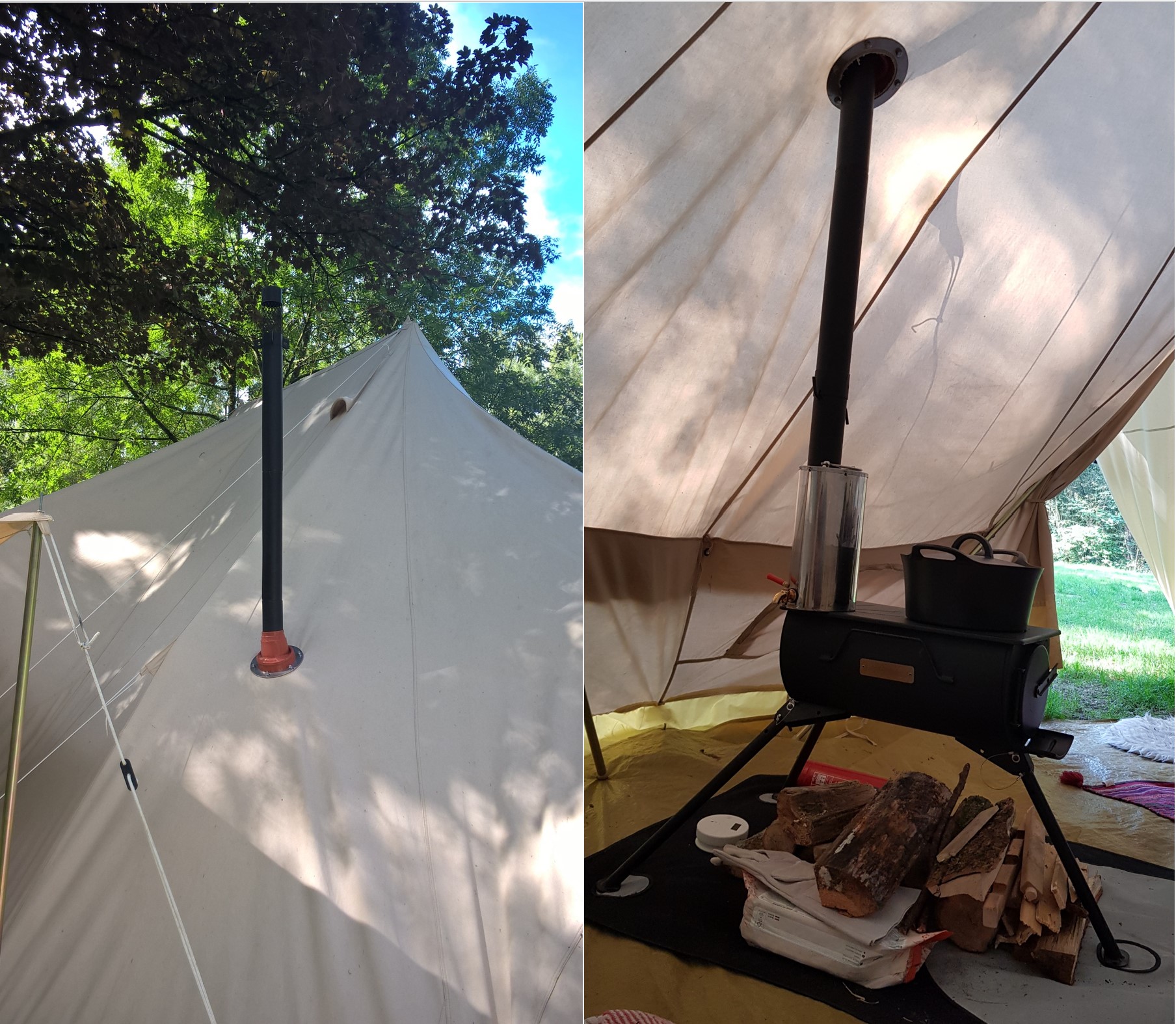 Almost every year it seems I do an upgrade to my setup. In the summer of 2017 I ordered an Anevay Frontier Stove. This is a wood stove designed to be portable and put into a tent.
The most scary part of this upgrade was that I had to cut a hole in my tent. To do so, made me quite nervous. It's quite permanent and if done wrong, the whole canvas can be damaged.
But it was successful and I had a few events also after summer where the heat produced by the stove was very welcome. I also ordered a water tank that fits the chimney, which cools down the chimney and also produces hot water for tea for example.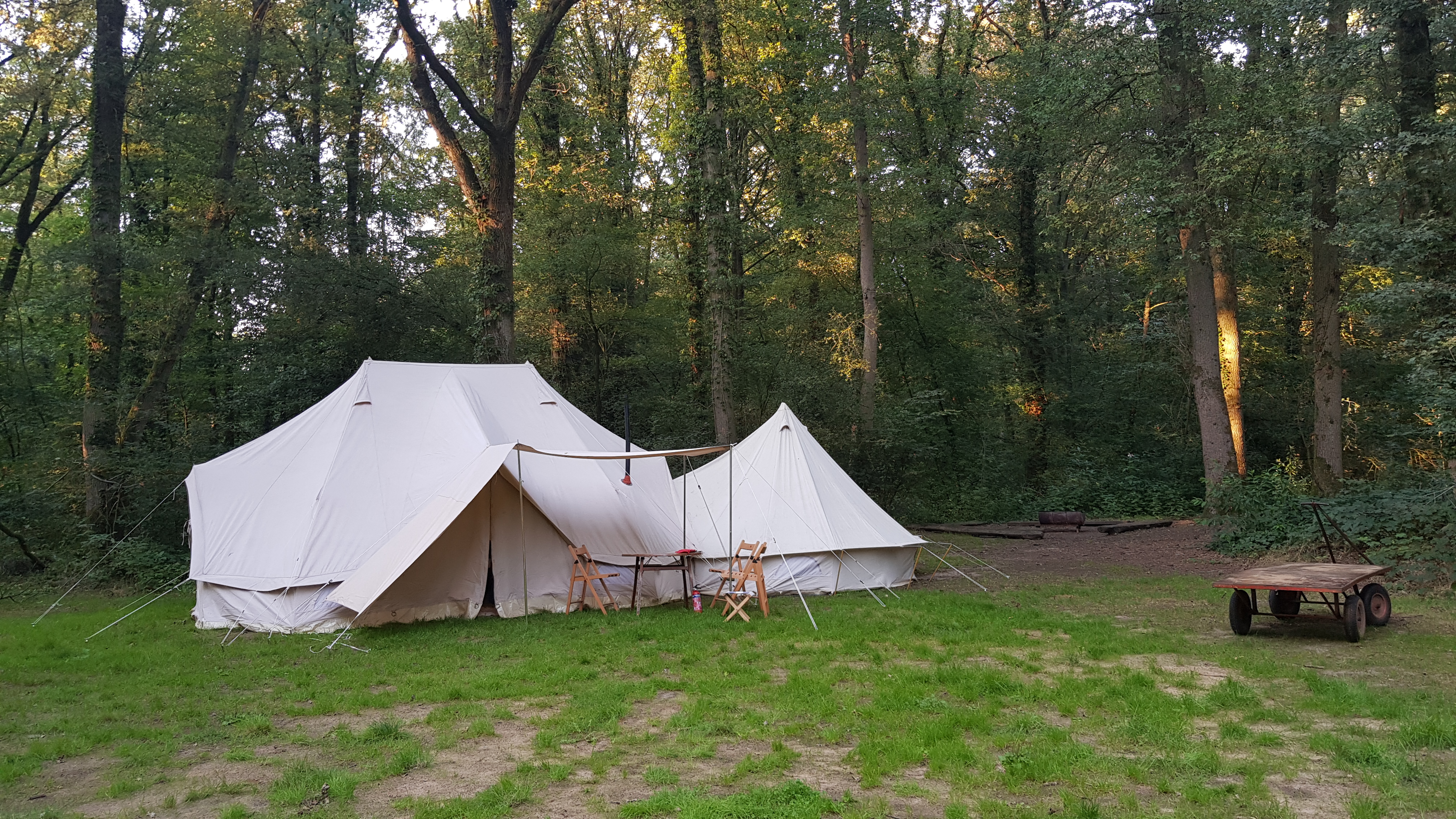 Because it's also very useful to be able to sit inside the tent when it's raining, windy, or just cold, I noticed that I didn't like that the living area also contained my bed. Especially when we had visitors over.
As a solution, I borrowed a tent from a friend, a Sahara/Sibley 400, for this purpose. This tent can be connected to my main tent, which created a separate bedroom connected to a big living room.
We've put up this setup quite a lot of time, and it was an awesome glamping experience.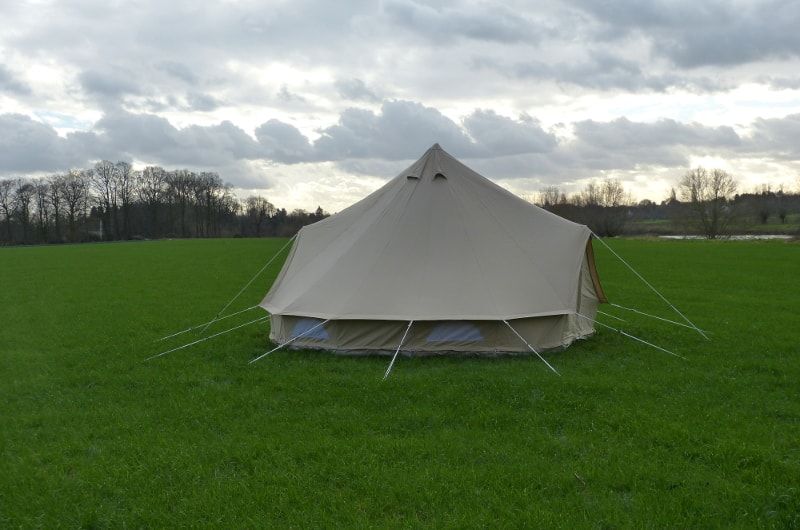 After a while, my wife needed a tent she could pitch by her own, for her hobby (long distance marching) for the Nijmeegse Vierdaagse.
My tent is very nice, but it's very difficult to pitch it with just one person (I tried, it's possible, but not preferable). I didn't want her to get a small polyester tent, so we looked for another Sibley.
So after some consideration, in August 2020 we got a 500 diameter Sibley tent with two doors. The reason for the model with two doors is that there's more room to stand straight up, and on hot days it's possible to get some airflow by opening both doors. Bonus side; it could be connected to my existing tent!
Also, there was no need to borrow the tent from my friend anymore (I'm still very grateful for the years I could borrow it by the way).